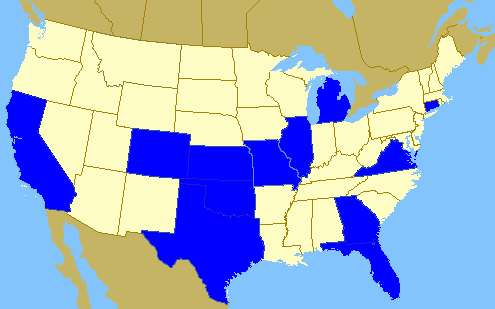 Present day Viergevers in the USA
California
Mission Viejo
David W. Viergever
Ruth H.

Retired hardware store owner
Origins: Grand Rapids, Michigan
Sacramento
William W.
Son of David & Ruth V.
Children:Nichole, Ashley, Chad

Rancho Santa Margarita
Anne
Daughter of David & Ruth V.
Children: Kelly, Christine, Ryan

Laguna Hills
James
Son of David & Ruth V.

David sent me this picture of his father Walter's family.

Top left to right: Clarence (1899), Daniel (1895) and Dave's father Walter (1901).

Their father was Martin (1872) and their mother was Alma Goetche.

The girl is Madeline.

Here is a picture of William (Middle), father Dave (Right), son Chad (front) and brother James (Left)
Richard Chico, CA 95926 Phone: 530-893-8555
Thomas P. Oakland, California tpvierge@vela.acs.oakland.edu
Florida
William Thomas 425 Sunset Rd, West Palm Beach, FL33401-7927
William Thomas 6304 TIDEWAVE ST ORLANDO FL32822(407)249-0994
William Thomas 711 Penn St West Palm Beach, FL 33401Phone: 561-804-9336
William 1545 Centrepark Dr M West Palm Beach, FL Phone: 561-684-2000
William 1609 Georgia Ave West Palm Beach, FL Phone: 561-804-9336
Larry Sarrasota, FL
Virginia
Laura Lee 8423 VALLEY WOOD RDRICHMOND VA23229(804)282-0078
Thomas Craig 8423 Valley Wood RdRichmond, VA 23229Phone: 804-282-0078
Tom and Laura Lee Viergever in Richmond, Virginia.
Their children: Tomas Craig Jr. (Buddy), William Mason (Mason) and Laura Lindsay
Tom and his brother Craig (from Atlanta, Georgia) are the sons of Marvin
(Bud) and Yvonne (Bonnie) Viergever, who have lived in Atlanta since 1967. Bud and his sister, Lois Jane, were born in Grand Rapids, Michigan. Lo still lives in Rockford (her children: David and Mark Huber)
Their parents were Martin and Anne Viergever.
Connecticut
B. 9 Alden Ave Norwalk, CT Phone: 203-299-1995
Kansas
Walter A 940 SW Valencia Rd Topeka, KS 66615Phone: 785-478-0826
James L &V 8308 Beverly DrShawnee Mission, KS 66207Phone: 913-341-6318
Jay & Shawni Rr 7 Topeka, KS 66604Phone: 785-256-6632
Robert Rr 8 Topeka, KS 66615Phone: 785-256-4357
Randy 9726 NW 31st StSilver Lake, KS 66539Phone: 785-582-4695
Melissa Lee Kansas mrsfroggy@hotmail.com
Dan W & M Dan 1001 S Tennessee Ave Chanute, KS 66720 Phone: 316-431-1032
JP 1828 W 18th St N Wichita, KS 67203Phone: 316-838-6909
Jean 7741 NW Hoch Rd, Silver Lake, KS66539-9436 Phone: 785-582-4243
HL 525 Perry St, Rossville, KS66533-9746 Phone: 785-584-6269
Helen? 525 Spruce, Rossville, KS Phone: 785-584-6269
Darrell L& Debbie L14024 166th RdMayetta, KS 66509Phone: 785-966-2875
Don Rr 1 Maple Hill, KS 66507Phone: 785-256-4644
Don Rr 1, Auburn, KS66402-9801
Charles R 937 SW Valencia Rd Topeka, KS 66615Phone: 785-478-4565
Christina 1414 nw eugene Topeka, Kansas 66608 Babytwety@aol.com, christinaviergever@yahoo.com, YBEGOOD@AOL.COM

Dover, Kansas Cemetery -- Viergever headstones

Dover, Kansas is just a few miles west of Topeka, Kansas and just south of Valencia, Kansas.
Pictures thanks to Jay Stevens. Leonard and Adrianna Viergever (picture 1) are his Great-Grandparents.
The last 3 pictures go together. Visit his Genealogy Pages at:
http://www.jaystevens.net
I thought you may be interested in a picture of Lula and Andy Viergever and their children, which includes my father, David (from Morton, Illinois). This picture shows across the top (left to right): Darrell, David, Larry, Tony, Glenn, and Don. Then, my aunts, Rose Marie and Helen. Finally on the bottom are Lula and Andy.

Thank you for posting the pictures of the Dover, Kansas headstones. It brought back memories of time spent saying goodbye. I only wish that I could have met my Aunt Kathy. She was only 7 when she passed away in 1963. I want you to know that I find what you have put together to be simply amazing. God Bless!

Katrina Mae (Viergever) Pender; Pekin, Illinois.
Georgia
Craig Steven 1051 Somerset DrNW, Atlanta, GA 30327-3735 (404)237-3609
Andre, Great job on the Website. Interesting stuff. Thanks, and keep up the good work!
Craig Steven and Libby Viergever and their twin children Jonathan Murphey (Jack) and Olivia Ann (Olivia)
Here is quick blurb on us in Atlanta. Wife is Libby McConnell. She gave up her strong Irish name for the wonderful, ever confusing, yet hard to forget "Viergever" name. I am employed at Advantis Commercial Real Estate Services Company specializing in industrial properties.I have lived in Atlanta since 1967.
Marvin Wayne (Bud) & Yvonne (Bonnie) 445 Riverside Pkwy NWAtlanta, GA 30328 Phone: 404-255-6411
Marvin Wayne (Bud) Viergever, Father of Craig and Tom (Richmond, VA)
Texas
Bruce W & Elisabeth B4316 Helston Dr Plano, TX 75024 Phone: 972-335-8943
Jane L 244 ALAMOSA DRHEWITT TX76643(254)666-3870
Tim E & Lou Ann2162 Santa Fe Trl Tyler, TX 75703Phone: 903-839-6689
Michigan
Mary Banta from Grand Rapids, Michigan.
I am the daughter of Daniel, brother of Walter, whose son David lives in California.
I also have a sister, JoAnne who lives in Portland, Oregon.
What a find this E-Mail is. Thanks for what you have done so far. What an experience to be able to communicate with someone so far away.
Mary (Viergever) Banta.
Susan DeWit Spainhour
I am the grand daughter of Daniel August Viergever (son of Martin born 1872) and Blanch Brock Viergever of
Grand Rapids, Michigan. Daniel was the brother of Walter,Clarence and Madeline.
My grandparents had 2 daughters; JoAnne of Portland, Oregon and Mary of Grand Rapids, Michigan (my mother)
It has been most interesting reading all the information on your site. Thanks you for doing this
Look forward to more info.
Lora L Kluczynski-Viergever from Brooklyn, MI Phone: (517) 592-9187 loravee@aol.com
Barbara A 7538 Hessler Dr NE, Rockford, MI49341-9509(616)874-6525
Brad M & Gretchen C 33649 BAYOU DR, W BLOOMFIELD MI48323(248)335-6912
Brad M Pontiac, MI 48343 Phone: 248-335-6912
John & Nina 15248 King Rd, Thompsonville, MI Phone: 231-378-4670
Kenneth 739 Halena St Ne, Grand Rapids, MI Phone: 616-363-6037
MJ Shelbyville, MI 49344 Phone: 616-672-2154
Paul B & Christina 10866 Colony Rd, Pinckney, MI 48169Phone: 734-878-4902
Peter D & Rita N750 Pepper Dr, South Lyon, MI 48178Phone: 248-437-6248
Peter 1009 W Main St, Middleville, MI Phone: 616-795-1270
Peter 23230 Halsted Rd, Farmington, MI Phone: 248-474-5246
Roger H & Mary L 3942 Berry Ridge Dr, Holt, MI 48842Phone: 517-694-8313
Ruth E 1608 GRAEFIELD RD, BIRMINGHAM, MI 48009(248)643-4528
William M & Lois J 6862 Farrell Dr NE, Rockford, MI 49341Phone: 616-874-8154
Oklahoma
Anthony J 63200 E 300 Rd, Grove, OK 74344Phone: 918-786-5931
Colorado
Dan & Elaine4320 Basin Dr, Cotopaxi, CO 81223 Phone: 719-942-4749
Kris D 1388 Garrison St, Lakewood, CO 80215 Phone: 303-232-9497
Kimberly 16442 Parkside Dr, Parker, CO Phone: 303-805-8050
Kimberly Viergever:
André, what a wonderful idea! I am very interested in learning all I can about my family. At this time I can tell you that my father, Wayne was born in Grand Rapids, Michigan. His parents were Cora and Clarence Viergever. I have two brothers Brad and Bruce Viergever and will share the information with them. My father's two other sisters are Donna and Marion, they both reside in Michigan. My mother's name is Eleanor and she resides with me in Colorado. My daughter's name is Scout Lennea Viergever Easton.
Missouri
Terry 705 NW 145th Ln Liberal, MO 64762Phone: 417-843-4525
Illinois
I live in Illinois along with my parents, David & Karen Viergever, and my brother, Andrew Viergever. He was named after my grandpa, Andy. I also have a daughter Jessica. However, her last name is not Viergever.
Katrina Mae (Viergever) Pender; 2313 Broadway apt. 8B-7, Pekin, Illinois, 61554. (309)353-5856


David & Karen Viergever; Morton, Illinois
Andrew Viergever